Basic Gameplay Of ZombsRoyaleio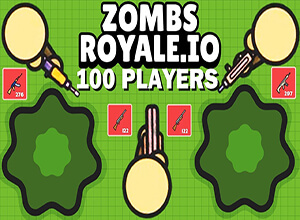 ZombsRoyaleio is considered to be a multiplayer 2D Battle Royale game. This massively multiplayer game can be played by 100 players at the same time.
If you are looking for some genuine information about the game ZombsRoyaleio then you are at the right place. You are required to play this game on your browser. This interesting game was developed by the collaboration of Spinz.io and Zombs.io.
Basic Game-play of ZombsRoyaleio
ZombsRoyaleio is generally based on the Battle Royale genre in which around 100 players are thrown in a map altogether. You are likely to fly a plane on the map in which you are allowed to jump off your plane by simply pressing the SPACE button. After landing on the map, you are supposed to destroy crates and then ammo chests and gold for finding the weapons for your defense from other players.
You have the option of hiding in the bushes as well as drink the potions for regaining your health. This way you can also fill the shield bar. Eventually, the storm is likely to close to a specific point in the map. Some kind of circle is supposed to appear on the map around the corner of the screen of your computer. Moreover, there will be a line that will direct you. Don't go inside this storm else it will damage you to the core. The last player standing strong will be considered victorious.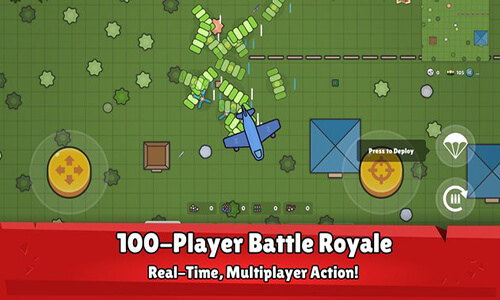 Basically, 4 kinds of game-play are there such as Solo, Duo, Squad, and Limited Time mode. Solo is nothing but a Classic solo PvP mode while Duo consists of 2 players' teams. The squad is likely to have 4 players' teams. On the other hand, Limited Time mode comes with various modes and each of the modes is to stay for some days. A few of the modes include superpower mode, 50v50 with the building blocks, survivor apocalypse mode, etc.
More About The Game
In ZombsRoyaleio, you are supposed to be put in the Royale Battle along with 50 other people at least. The primary goal is to be the last one standing. A wide range of different weapons is there to use such as desert eagles, SMGs, Snipers, VSS, assault rifles, shotguns, etc. On the other hand, there are other weapons like ninja stars, grenades, etc.
Every player in ZombsRoyaleio has to start with 100 hp but with zero shields. A player is allowed to lose some of the health by taking some explosive damage, punch damage, gun damage, storm damage, etc. A player is normally able to grab 100 shields as full health. This game is pretty easy to learn and you can even learn it quickly with the ZombsRoyale.io guide.